Firstly, Happy New Year everyone!  Wishing you all a healthier, wealthier and more successful year ever!  Okay, let's get down to business.  2013 has been a good year in movies with a lot of hits and misses, but all in all it was a pretty great cinematic year.  So the next question is that: what's in store for 2014?  I listed down the movies o be excited about this new year, and I tell you, we are in for a ride, with a handful of movies with genre that ranges from superhero, action,  comedy, to young adult adaptations, including some reboots of old classics.
30. The Edge of Tomorrow
Release Date: June 6
Starring: Tom Cruise, Emily Blunt, Bill Paxton, Jeremy Piven
Director: Doug Liman
For all the Cruise fans, here is his follow-up to his underrated film Oblivion.  It's yet another futuristic sci-fi action film that kinda looks like Elysium.  In The Edge Of Tomorrow, Cruise plays a soldier in a war against an alien race.  I'm not a fan of Tom Cruise, but the sight of Emily Blunt in the teaser holding a gun and just being a tough chick just hyped me.
29. Hercules
Release Date: July 25
Starring: Dwayne Johnson, John Hurt, Ian McShane, Joseph Fiennes
Director: Brett Ratner
And no, this is not the Kellan Lutz-flick that will be released this month that looks so god-awful just by looking at the trailer.  Instead, here we will see THE ROCK as the son of Zeus.  Dwayne Johnson as Herc?  That's cool.
28. The Expendables 3
Release Date: Aug. 15
Starring: Sylvester Stallone, Jason Statham, Mel Gibson, Harrison Ford
Director: Patrick Hughes
Of course if you are a fan of the this huge franchise, it will be a complete delight to see Stallone and the gang back again for a third hot-shot serving of The Expendables, now with a new foe in the face of Mel Gibson, who plays an original co-founder of The Expendables.  There were also casting drama coming to this as Bruce Willis opted out to join the cast because of money issues, so Stallone chose no other than Harrison Ford as his replacement.
27. Foxcatcher
Release Date: TBD
Starring: Channing Tatum, Mark Ruffalo, Steve Carell, Sienna Miller
Director: Bennett Miller
This marks Director Bennett Miller's follow-up to the critically-acclaimed Moneyball.  Foxcatcher tells the true-to-life story of the events surrounding the murder of Olympic Champion Dave Schultz (Ruffalo) at the hands of paranoid schizophrenic John duPont (Carell).  Early Oscar buzz for next next year?  That's too much of a horizon to think about.
26. Jack Ryan: Shadow Recruit
Release Date: Jan. 17
Starring: Chris Pine, Kevin Costner, Kenneth Branagh, Keira Knightley
Director: Kenneth Branagh
Based on the character of Jack Ryan created by THE Tom Clancy, this film is actually the fifth film in the Jack Ryan film series and is also a reboot that departs from the previous installments.  Chris Pine is the fourth actor to assume the role, following Alec Baldwin, Harrison Ford, and Ben Affleck.  With Kenneth Branagh as the director, I assume that this film will be very dramatic with a handful of theatrics along the way.

25. Dawn of the Planet of the Apes
Release Date: July 11
Starring: Andy Serkis, Gary Oldman, Keri Russell, Jason Clarke
Director: Matt Reeves
Whoa that's another mouthful of a title, pretty similar to 2011's Rise of the Planet of the Apes (whew I'm lost for breath there).  Directed by Matt Reeves, the same guy who made badass films such as Let Me In and Cloverfield, the sequel will be about the events eight years after the first one as the human survivors wage war against the ever-growing, mutated-Ape army led by Caesar (Serkis).  Where's James Franco then?
24. The LEGO Movie
Release Date: Feb. 7
Starring: Chris Pratt, Elizabeth Banks, Will Arnett, Will Ferrell
Director: Phil Lord, Chris Miller
Who does not love LEGOs?!  Features other voice work by Jonah Hill, Nick Offerman, Morgan Freeman, Liam Neeson (as Good Cop/Bad Cop), Alison Brie, Charlie Day, Cobie Smulders and Channing Tatum (as Superman), plus we will get to hear Will Arnett's take on the low-husky voice of The Batman, this is going to be a fun, fun movie for everyone!
23. 22 Jump Street
Release Date: June 13
Starring: Channing Tatum, Jonah Hill, Ice Cube, Nick Offerman
Director: Phil Lord, Chris Miller
In the first film, Jenko (Tatum) and Schmidt (Hill) went back to high school to find an underground crook.  This time, they are transferred to 22 Jump Street and are tasked to go back, you guessed it right, to college!  I just hope this will not suck and be a victim of a sophomore jinx.
22. The Interview
Release Date: Oct. 10
Starring: James Franco, Lizzy Caplan, Seth Rogen, Randall Park
Director: Evan Goldberg, Seth Rogen
The dynamic-duo Goldberg and Rogen, who did last year's comedy classic This Is The End, return with yet another comedy that will surely hit our funny bones to no end.  This film features a talk show host (Franco) as he and his producer (Rogen) get caught up in an international assassination plot.
21. Transformers: Age of Extinction
Release Date: June 27
Starring: Mark Wahlberg, Nicola Peltz, Jack Reynor, Stanley Tucci
Director: Michael Bay
After the not-so-good second and third installments of Transformers, Michael Bay tries to revamp his franchise with a new set of cast led by Mark Wahlberg and with the introduction of DINOBOTS!  Hoping for a better Transformers flick hereon out.
20. Need for Speed
Release Date: March 14
Starring: Aaron Paul, Imogen Poots, Dominic Cooper, Dakota Johnson, Imogen Poots, Michael Keaton
Director: Scott Waugh
For all the fans of legendary car racing EA's video game Need for Speed, this film is something to look forward to.  And with Breaking Bad's Aaron Paul playing the lead character, what more can you ask for?   It's Jesse muther-effin Pinkman bitch!
Watch the trailer for Need For Speed HERE.
 19. The Hobbit: There and Back Again
Release Date: Dec. 17
Starring: Martin Freeman, Ian McKellen, Richard Armitage, Luke Evans
Director: Peter Jackson
Of course this one is coming!  If the cliffhanger from Desolation of Smaug bit you with a bitter sting, don't fret because the final installment of The Hobbit franchise comes to an end at the end of this year.  And no, it won't be stretched out yet again and be sliced into two separate parts.  The Hobbit is only one book, for God's sake.
18. Unbroken
Release Date: Dec. 25
Starring: Jack O'Connell, Garrett Hedlund, Jai Courtney, Domhnall Gleeson
Director: Angelina Jolie
Angelina Jolie is back at the helm following her 2011's critically-acclaimed film In the Land of Blood and Honey.  Unbroken tells the story of Olympic runner Louis Zamperini (O'Connell), after being imprisoned by the Japanese army during World War II.
17. Transcendence
Release Date: April 18
Starring: Johnny Depp, Kate Mara, Paul Bettany, Morgan Freeman
Director: Wally Pfister
This will mark the directorial debut of Christopher Nolan's long-time cinematographer Wally Pfiser.  Transcendence is a sci-fi thriller that tells a story of a terminally-ill artificial intelligence researcher (Depp) who manages to transfer his consciousness to a computer and has become unstoppable.  That plot is interesting enough for me.
16. Noah
Release Date: March 28
Starring: Russell Crowe, Logan Lerman, Jennifer Connelly, Emma Watson
Director: Darren Aronofsky
I can't believe director Darren Aronofsky can actually do an epic movie like this, following one of the highlight films of his career, Black Swan.  With the epic story from the Old Testament, and with the cast led by Oscar-friendly Russell Crowe (Mr. Gladiator himself) and Jennifer Connelly, plus two of  this generation's A-list actors Emma Watson and Logan Lerman, you can never go wrong with Noah.
15. Sin City: A Dame To Kill For
Release Date: Aug. 22
Starring: Josh Brolin, Eva Green, Joseph Gordon-Levitt, Jessica Alba
Director: Robert Rodriguez, Frank Miller
I can't believe I have waited for 10 long years for the sequel to the original Sin City movie!  A Dame to Kill For is a comic book limited series first published by Dark Horse Comics in 1993 and it is the second story in Frank Miller's Sin City series.  And we will get to see Eva Green in all her glory as she reprises her role as Ava Lord, the 'dame to kill for'.
14. Robo-Cop
Release Date: Feb. 12
Starring: Joel Kinnaman, Michael Keaton, Gary Oldman, Samuel L. Jackson
Director: Jose Padilha
Look who's back?  It's Robo-Cop's turn to be revamped and just based on the teaser, this is will be one heck of a reboot!  The remake stars Joel Kinnaman as Alex Murphy, the part-human, part-robot police officer who will do his best to stem the tide of crime and corruption in Detroit in year 2028.  Personally, aside from the action and all those hoolabaloos in filmmaking, I am most excited about seeing The Killing star Kinnaman in a title role.
13. Godzilla
Release Date: May 16
Starring: Aaron Taylor-Johnson, Elizabeth Olsen, Bryan Cranston, Juliette Binoche
Director: Gareth Edwards
They had me at Bryan Cranston.  That is all.
12. Captain America: The Winter Soldier
Release Date: April 4
Starring: Chris Evans, Scarlett Johansson, Samuel L. Jackson, Anthony Mackie
Director: Anthony Russo, Joe Russo
Captain Steve Rogers is back and this time he brings Black Widow and Nick Fury with him.  After the cataclysmic events in New York with The Avengers,  Rogers (Evans) is now living quietly in Washington, D.C., trying to adjust to the modern world.  But when a S.H.I.E.L.D. colleague comes under attack, Steve becomes embroiled in a web of intrigue that threatens to put the world at risk.  Also in the film is the debut of Cap's right hand man Sam Wilson/Falcon (Mackie), who I expect to elevate this sequel to greater heights.
Watch the trailer for Captain America: The Winter Soldier HERE.
11. Maleficent
Release Date: May 30
Starring: Angelina Jolie, Elle Fanning, Sharlto Copley, Juno Temple
Director: Robert Stromberg
Angelina Jolie as a Villain? I am sold.  Angelina Jolie as MALEFICENT, the most evil Disney villain ever? I think I just died there.  The "Sleeping Beauty" tale is told from the perspective of the villainous Maleficent and looks at the events that hardened her heart and drove her to curse young Princess Aurora.
Watch the trailer for Maleficent HERE.
10. Divergent
Release Date: March 21
Starring: Shailene Woodley, Theo James, Kate Winslet, Miles Teller
Director: Neil Burger
Here's another movie that is based on a worldwide best selling Young Adult novel.  Will this be the next Twilight or Hunger Games, or will this go down the drain like Beautiful Creatures or Mortal Instruments: City of Bones?  I am genuinely hoping for the former, but I don't want it to be successful in the box office ala-Twilight (simply because I hated the franchise and the cast was a letdown), but more like Hunger Games.
Watch the trailer for Divergent HERE.
9. Jupiter Ascending
Release Date: July 18
Starring: Mila Kunis, Channing Tatum, Sean Bean, Eddie Redmayne
Director: Andy Wachowski, Lana Wachowski
I am a fan of the Wachowski Brothers, who raised to fame with The Matrix franchise.  Now they are back to what they do best — a sci-fi action-adventure movie!  And just look at the cast?  Kunis, Tatum, Bean, and Redmayne?  I'm quite intrigued and excited about this one.
8. Annie
Release Date: Dec. 19
Starring: Quvenzhane Wallis, Cameron Diaz, Jamie Foxx, Rose Byrne
Director: Will Gluck
Alas, a classic Broadway Musical based on the long-running comic strip is being reinvented to the big screen for the second time and in a whole new way!  The ever-adorable Quvenzhane Wallis will be playing the title role of the optimistic girl who believes that the sun will come out Tomorrow.  Yes you heard that right, the star of Beasts of Southern Wild and one of the youngest Academy Award nominees will give her own take on the classic role and will prove that she is indeed THE MAN!
7. X-Men: Days of Future Past
Release Date: May 23
Starring: Patrick Stewart, Ian McKellen, James McAvoy, Michael Fassbender
Director: Bryan Singer
I have been talking about the movies here in the list that have huge and powerful cast, but don't count this one yet.  In fact, I think X-Men: Days of Future Past is on top when it comes to gathering the greatest ensemble, even with the omission of Anna Pacquin in the editing pool, which was I think a bad move for director Bryan Singer who showed little love to one of X-Men's most beloved characters, Rogue.
Watch the trailer for X-Men: Days of Future Past HERE.
6. Into The Woods
Release Date: Dec. 25
Starring: Johnny Depp, Meryl Streep, Emily Blunt, Anna Kendrick, Chris Pine
Director: Rob Marshall
Just look at the powerhouse cast!  Into the Woods is a world-renowned, beloved musical with music and lyrics by Stephen Sondheim and book by James Lapine.  It finally becomes a big-screen offering courtesy of Chicago director himself, Rob Marshall.  And again, look at the powerhouse cast!  The Academy heads up, we got hot one coming!
5. The Amazing Spider-Man 2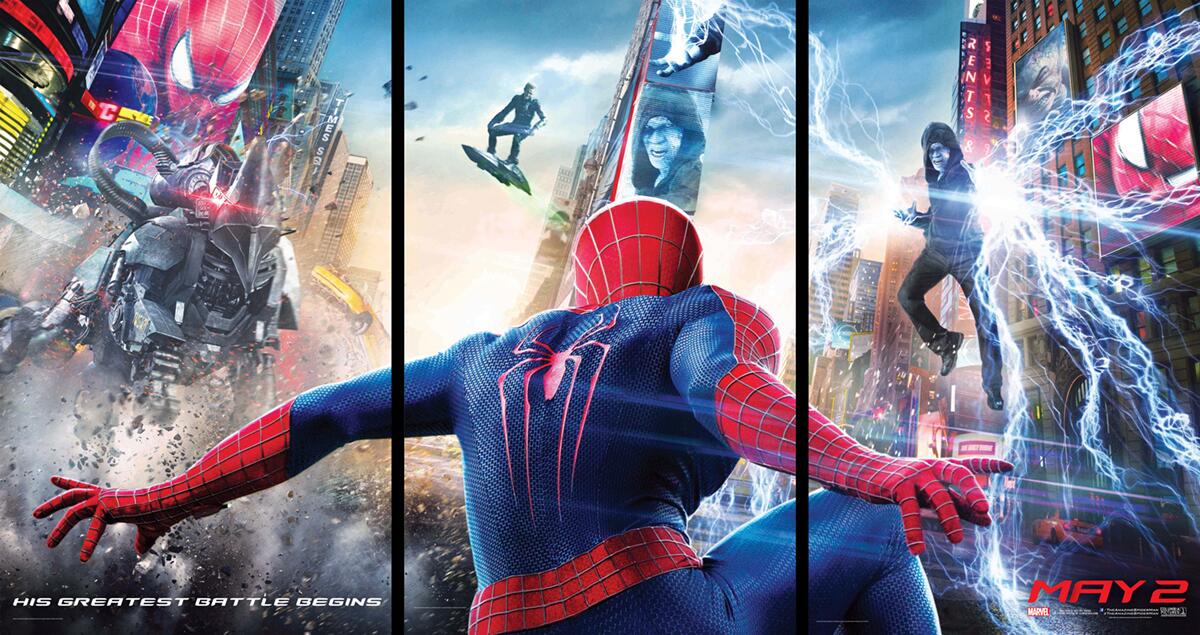 Release Date: May 2
Starring: Andrew Garfield, Emma Stone, Dane DeHaan, Jamie Foxx, Paul Giamatti
Director: Marc Webb
Now that the origins movie is out of the window, the rebooted Spider-Man franchise will soar even higher, now that they will tackle a trifecta of Peter Parker's most powerful nemeses  — Electro (Foxx), Rhino (Giamatti) in a modern mech suit, and what seems to be the Green Goblin (DeHaan).  THIS. IS. GOING. TO. BE. FCKIN. AWESOME.  Unless there will be a surprise dance number of Parker himself.
Watch the trailer for The Amazing Spider-Man 2 HERE.
4. How To Train Your Dragon 2
Release Date: June 13
Starring: Jay Baruchel, Kristen Wiig, America Ferrera, Cate Blanchett
Director: Dean DeBlois
Oh I have been waiting for this sequel.  Hiccup, Toothless and the whole gang are all back and all grown up with a bunch of new adventures as they find a secret cave that houses a hundred of endangered wild dragons, taken cared of by a mysterious Dragon Rider.
Watch the Trailer for How to Train Your Dragon 2 HERE.
3. Guardians of the Galaxy
Release Date: Aug. 1
Starring: Chris Pratt, Zoe Saldana, Bradley Cooper, Vin Diesel
Director: James Gunn
Well, I am hyped with this movie the most.  After being announced by Marvel super producer Kevin Feige at the San Diego Comic-Con, Guardians of the Galaxy is intended to be the tenth installment in the Marvel Cinematic Universe.  Talking about a humongous franchise!  With a cast led by Pratt, Saldana, Diesel and last-but-definitely-not-the-least Cooper, who will be voicing the super-duper bad-ass character Rocket Racoon, this has got to be the most anticipated movie for all comic book fanboys around the world.

2. The Hunger Games: Mockingjay Part I
Release Date: Nov. 21
Starring: Jennifer Lawrence, Josh Hutcherson, Sam Claflin, Julianne Moore
Director: Francis Lawrence
Oh, the The Hunger Games franchise is down to its final two installments.  Good thing the final book will be slashed into two separate movies (Wait, is that a good idea or a bad idea?).  With Hunger Games: Catching Fire setting the bar so high for the final two movies, I am one of those who would expect little, but will enjoy the final movies to its fullest, no matter what.  I guess the odds are in their favor, and it looks pretty good.
1. Interstellar
Release Date: Nov. 7
Starring: Matthew McConaughey, Jessica Chastain, Anne Hathaway, Michael Caine
Director: Christopher Nolan
Tell me, what can Christopher Nolan do wrong?  From Memento to Inception, to his take on the Dark Knight, all of his works were all masterpieces in their own right.  Now he moves out of Gotham City and travels…outer space.  The teaser shows very little, something that excites me even more.